Book Review by Jeffrey Jones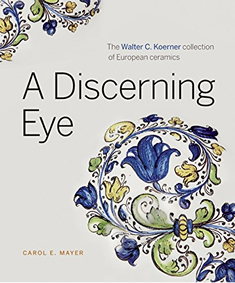 The sleeve notes of this handsome, expensively produced book conclude by stating that it is a 'fascinating, comprehensive, and visually stunning tribute'. There is ample evidence for this claim, although the reader might have cause to wonder (more in a spirit of curiosity than of criticism) to whom or to what the tribute is primarily being made.
Perhaps most immediately the book can be seen as a tribute to Walter C. Koerner himself; to his connoisseurship, to his 'discerning eye' and also to his character. Clearly there is much to admire in the way that Koerner amassed and then, during the turbulent middle years of the twentieth century, moved in its entirety this extraordinary collection of European ceramics from his home country of Czechoslovakia to Canada where it was eventually donated to the Museum of Anthropology at the University of British Columbia. Such an undertaking would inevitably demand considerable financial capabilities as well as personal qualities and it is good to learn that Koerner was as enlightened and generous a businessman as he was a benefactor of the arts. His early career was spent in his father's forestry company in Czechoslovakia and in latezqr years in Canada he established his own company, Alaskan Pine, which became well known for its innovate practices in management and labour relations and in its concerns for a safe working environment. Everything about this book – the respectful text, impressive photographs and high production values – speaks of the regard that author and publisher clearly held for this man and his achievements.
Perhaps Koerner himself would have been happier seeing this book as a tribute to the potters who made the work he so much admired and collected. There were three categories of work to which he was particularly drawn: Italian Renaissance tin glaze ware, the so called Haban ware made by northern and central European Anabaptist potters and sixteenth and seventeenth century stove tiles, mainly made in Germany and termed Hafner ware. These form the bulk of his collection, although there are also fine examples of Dutch and English Delft, French, Austrian, Hungarian and German Faience and German stoneware. Koerner himself considered the Haban ware to be the most important part of his collection – it was 'close to his heart'- and it is this chapter of the book that has the most engaging story to tell and which provides a nexus for the rest of the text.1
The author Carol E. Mayer gives a succinct account of the story of the Anabaptists, who were members of a dissenting religious movement that began in early sixteenth century in Switzerland and gradually moved outwards through much of central Europe. Originally 'Anabaptist' was a pejorative term; it literally means 'baptized again', a reference to their rejection of (initially their own) infant baptism in favour of freely chosen adult baptism. This was a central tenet of their faith along with pacifism and the holding of all their goods in common. The term Haban (derived from haushaben or householders) was applied to their tin glazed pottery ware. This ware had its roots in the Italian renaissance when many potters fled northwards from the persecution of the Holy Inquisition in search of more tolerant living and working conditions, finding hospitality and opportunities to practise their craft amongst the Anabaptists. The extent to which there was any substantial pre-existing tradition of pottery making amongst the Anabaptists before the arrival of the Italian potters is not discussed to any degree in the text. There are strong hints of this, particularly in the illustration of a tankard made in Moravia, now part of the Czech Republic ca.1590. This striking piece of unadorned, manganese brown, lead glazed earthenware is surely reflective of the original strict ethos of the Anabaptists who strove for simplicity in all things.
Indeed by 1584 a set of rules had been established for the Anabaptist potters, rules which reflected a general approach to life and work – 'the potters should not create new shapes, especially ones that are not proper … no potter should try to take away business from the other … the Brethren should produce the same shapes, in the same way as was always done'.2 But clearly, of course, there were innovations in shapes and in decorative devices, not least because of the input of the Italian potters, and through the years of seventeenth century a relaxation of the rules can be seen as Italian exuberance rubbed up against Anabaptist austerity. The range and quality of the illustrations in this book reveal this as much as the text. As the rules for their pottery were loosened, the social and communitarian arrangements of the Anabaptists became less restrictive. There was less emphasis on shared ownership and collective working and potters began to produce and market their wares independently. They moved to other places and working situations, even to factories producing a version of Faience such as Holíč? in present day Hungary.
It is this migration of people and skills and styles that is a recurring and central theme of this book. The pieces that make up the Koerner collection can be admired in their own right but they also tell stories of movement, either willingly undertaken or more forcibly made; Italian potters moved north and influenced Anabaptists in Czechoslovakia and Dutch potters in Delft, who in their turn moved to England. The author tells us that it is probable that the techniques for making the stove tiles which were perfected in Germany had their origins in Italy and that the Anabaptists also benefited from this knowledge. Indeed we learn that 'In the 1750s, Moravian Anabaptists took some of their moulds to North Carolina, in the U.S., where they continued to manufacture tiled stoves as well as various vessel such as plates, pans and bowls'.3
As a refugee himself Koerner was particularly sympathetic to this migratory process and he had a keen sense of injustice regarding the denial of rights to minority peoples. He had experienced this in Europe in the 1930s and in his later life in Canada he became acutely aware of the plight of First Nations people. He collected their artefacts in a process of repatriation, buying them back in an attempt to generate a true appreciation of their worth. He lobbied the Canadian government, arguing that if money were found to build a new anthropological museum attached to the University of British Columbia then he would donate to it his First Nation collection. His strategy succeeded and the new Museum of Anthropology opened in 1976. Koerner had been a major benefactor to the old museum since the 1940s when it was housed in inadequate facilities in the department of anthropology at the university and he had a close personal association with Harry and Audrey Hawthorn who had established the department. Through the Victor Odlum Family Bequest, the building of a new gallery enabled Koerner to make his final major gift to the museum. The Koerner European Ceramics Gallery attached to the Museum of Anthropology opened in 1990.
With all this in mind this book can be understood as a tribute to a museum as well as a tribute to a man and to the potters who made the work that he collected. Published by the museum itself, it promotes and celebrates one of their primary collections in an impressive and comprehensive manner. There can be few provincial collections of ceramics that have been so well served. In his foreword the director of the museum states that '(the author) provides an elegant exposition that clearly justifies why one of Canada's most important European ceramics collections should reside in a museum of anthropology'.4 Clearly there was some anxiety about whether the Koerner collection was best placed in the institution in which it finally came to rest. Indeed this book can be seen as an attempt, albeit a very successful one, to head off any charge that the collection is where it is because of expediency rather than for sound curatorial reasons. In the end the reader is persuaded that the right decision was made. Many factors bear upon the choice of host institution for any substantial collection of artefacts. The author is candid in her account and persuasive in her arguments that the juxtaposition of anthropology and art history, in this instance at least, is well founded.
---
Notes
1 Walter C. Koerner quoted in Carol E. Mayer, A Discerning Eye: The Walter C. Koerner Collection of European Ceramics, Vancouver, Museum of Anthropology at the University of British Columbia, 2014, p.47.
2 Quoted in Carol E. Mayer, A Discerning Eye: The Walter C. Koerner Collection of European Ceramics, Vancouver, Museum of Anthropology at the University of British Columbia, 2014, p.49.
3 Carol E. Mayer, A Discerning Eye: The Walter C. Koerner Collection of European Ceramics, Vancouver, Museum of Anthropology at the University of British Columbia, 2014, p.154.
4 Anthony Alan Shelton in Carol E. Mayer, A Discerning Eye: The Walter C. Koerner Collection of European Ceramics, Vancouver, Museum of Anthropology at the University of British Columbia, 2014, p.viii.
---
Top of the page | Download Word document | Next